Reunion of Feminine and Masculine

A Channel with John McCurdy and Romana Ercegović
Go straight to the channels: Part 1 : Part 2 : Part 3
At the core of all things, after a long separation, Isis and Adam (Divine Feminine and Divine Masculine) have reunited. Now she is ready to come home within anyone who will allow it, and she brings precious and amazing gifts for you.
Isis came to me in a beautiful and unexpected way in the spring of 2018, and proceeded to change my life in the most unexpected and beautiful ways. She began by asking to speak through me at a gathering on Kos Island in Greece (that message is here), and then she began to change my life in unexpected and beautiful ways.
In Greece I met Romana Ercegović, another presenter who has been exploring Sacred Feminine for many years. And, to my surprise, in her I discovered a true match to my heart. When I asked Isis how I, who had dedicated my life to self-love and enlightenment, could be falling so deeply in love with another person, she laughed and replied, "Do you really think Adam and I want this amazing reunion to only be an inner experience? What do you think 'embodied' is for, anyway?" So I let go and allowed myself to receive Romana's love.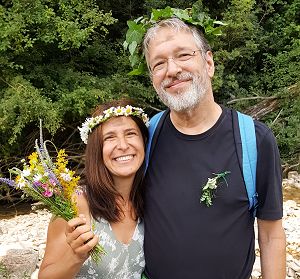 A month later, in June, Romana invited me to attend a retreat she was leading. A week of camping in a deep and wild valley in the southwestern part of Slovenia (we'll be back there in June 2019), it was a magical, transformative and beautiful time of connecting with the Sacred Feminine, and with ourselves and our own creativity. At the end of the retreat Romana and I celebrated our own sacred union with a beautiful wedding ceremony along the gentle waters of the Dragonja River.
On the first day of the retreat, as Romana brought in the consciousness of the Sacred Feminine, I felt Isis wanting to speak. With Romana's permission I allowed her to speak through me as we sat in a circle in the woods that afternoon, and she talked about her own journey and about how she is ready to come home within anyone who will allow it. And she talked about the gifts she brings with her, like true self-love and real creation. After the channel I was surprised to feel Adam asking me to allow him to present his perspective as well, which we did around the campfire a few days later, and at the end of the retreat The Divine, the reunited Isis and Adam, shared a very special message about worthiness.
Together these three messages are a beautiful trilogy about self-love and allowing the reunion of our own feminine and masculine facets. I hope you enjoy them!
I wish to especially thank Romana, now my beloved wife, for the opportunity to present these channels at her beautiful retreat, and also for her beautiful openings at the beginning of each one.
If these messages are of value to you, please consider using the form below or on the right to add your energy to our work.
Adam talked about how, at the core of all things the masculine and feminine have reunited and the ancient conflict that has fueled so much of the conflict in our lives is over. Then he talked about how he got so caught up in his search for Isis that he forgot his real job of experiencing her creation. He spoke of his battles to find and protect her, of how those battles keep him from recognizing her as she tries to come home, and of how important it is now for us to let those battles go.
Adam: The Conflict is Over
On the last day, during our closing circle, I suddenly felt Isis again. She said there was one more piece that still needed to be addressed, and as I opened to allow her to speak I was surprised to feel the energies shift. What came through was the united whole of the reunited Isis and Adam, or simply, The Divine. This short message was about worthiness, and was the perfect completion of our experience. 
Together these three messages are a beautiful experience of deepening your own connection with Soul and of allowing a very special inner reunion to take place. We hope you enjoy them!