A Course in Grace and Magic
Exploring the Practical Embodiment of Christ Consciousness in Everyday Life

Welcome to Grace and Magic!
Our lives are full of grace and magic. Not the kind of magic where we cast spells or use magic wands to control or change the life around us, but the graceful kind. The kind that is our most natural expression. The kind where everything we need and much more is just there when we need it. The kind where reality itself shifts to accommodate our needs.
Both of us have spent many years and many lifetimes gathering the experience and wisdom to allow this kind of magic and grace into human life, and in this ongoing course we'll do our best to share what we have learned. Or more precisely, we'll allow our souls to share, for only with the soul's wisdom and participation can one enter into this space. There will also be messages from Yeshua (Jesus), Mary Magdalene, the Sacred Feminine, Merlin, the Christ Consciousness and others.
If this sounds interesting to you, we invite you to check out the introduction, and then decide how much it is worth to you. You may also want to listen to the channel where this course was first announced.
We expect to release around four lessons per month. If you have questions about the course material, please use the form on the right to ask them.
Please note: We have chosen to remove all the controls from this material. We ask you to pay something in exchange for the energies we have put into it, but the amount is up to you. If you truly feel that you cannot pay anything right now, you are still free to listen to these messages. Perhaps you can find another way of exchanging energy, such as sharing the link to our website with other groups that you feel might find it useful. You may also pay for individual lessons, using the form below or the link near the top of each lesson.
We hope you enjoy this very special class!
Un Curso de Gracia y Magia
Explorando la Encarnación Práctica de la Conciencia de Cristo en la vida diaria
---
Welcome to Grace and Magic!
Nuestras vidas están llenas de gracia y magia. No del tipo de magia donde lanzamos hechizos o usamos varitas mágicas para controlar o cambiar la vida a nuestro alrededor, sino el tipo de magia elegante. La que es nuestra expresión más natural. Del tipo en el que todo lo que necesitamos y mucho más, está ahí cuando lo necesitemos. Del tipo en el que la realidad misma cambia para acomodarse a nuestras necesidades.
Ambos, hemos pasado muchos años y muchas vidas reuniendo la experiencia y la sabiduría para permitir este tipo de magia y gracia en la vida humana; y en este curso haremos todo lo posible para compartir lo que hemos aprendido. O más precisamente, permitiremos que nuestras almas compartan, porque sólo con la sabiduría y participación del alma se puede entrar en este espacio. También habrá mensajes de Yeshua (Jesús), Mary Magdalene, el Sagrado Femenino, Merlín, y otros.
Si esto le parece interesante, lo invitamos a leer la introducción y luego decidir cuánto vale para usted. También es posible que desee escuchar el canal donde se anunció este curso por primera vez.
Esperamos lanzar alrededor de cuatro lecciones por mes. Si tiene preguntas sobre el material del curso, utilice el formulario a la derecha para hacerlas.
Tenga en cuenta: hemos optado por eliminar todos los controles de este material. Le pedimos que pague algo a cambio de las energías que le hemos puesto, pero la cantidad depende de usted. Si realmente siente que no puede pagar nada en este momento, aún puede escuchar estos mensajes. Quizás pueda encontrar otra forma de intercambiar energía, como compartir el enlace a nuestro sitio web con otros grupos que considere útiles. También puede pagar por lecciones individuales, utilizando el formulario a continuación o el enlace cerca de la parte superior de cada lección.
¡Esperamos que disfrutes de esta clase muy especial!
Subscribe to:
A Course in Grace and Magic
Instead of charging a fixed price for this course, we offer you the opportunity to pay whatever amount feels good and appropriate to you. Thank you for subscribing!
Euros US Dollars
PayPal Card
The suggested monthly subscription price is
€
88.
Please enter the amount you choose:
Monthly Subscription
If you subscribe, this amount will be drawn automatically from your card each month. You may cancel at any time.
Single Payment
Use this for a one-time payment instead of a monthly subscription.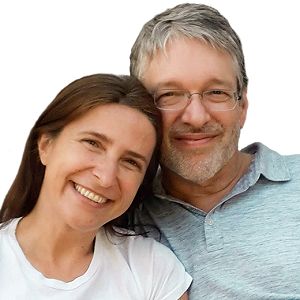 Romana Ercegović • John McCurdy
Questions?
If you have a question or comment about the course material, you may submit it here. If it is of general interest we may address it in an upcoming lesson, though we'll always protect your privacy.